Implant teeth are defined as artificial roots made of titanium to replace missing teeth. Dental implant operations; Surgery is among the comprehensive treatments that require knowledge, experience and skills.
In Which Situations Is Orthodontic Treatment Applied?
Orthodontic treatments are treatments applied to people who have gaps between the teeth, crowding in the teeth, problems in the tooth sequence, and closing problems.
What are the Orthodontic Treatment Types?
Various facial and chin appliances can be used to prevent problems in pediatric patients in the growth and development age. Other orthodontic treatments that can be applied are transparent aligners and wire-free orthodontic treatments, porcelain and metal braces, and lingual orthodontic treatments applied from the back surfaces of the teeth.
What are Wireless Orthodontic Treatments?
Plaque Treatment Transparent
Transparent plaque treatment (wireless orthodontic treatment), which has been started to be applied as an alternative to braces, which has been used for many years, is among the latest technology methods.
With this method, it is much more possible to have your orthodontic treatment without braces and to achieve the desired aesthetic and functional results with transparent aligners.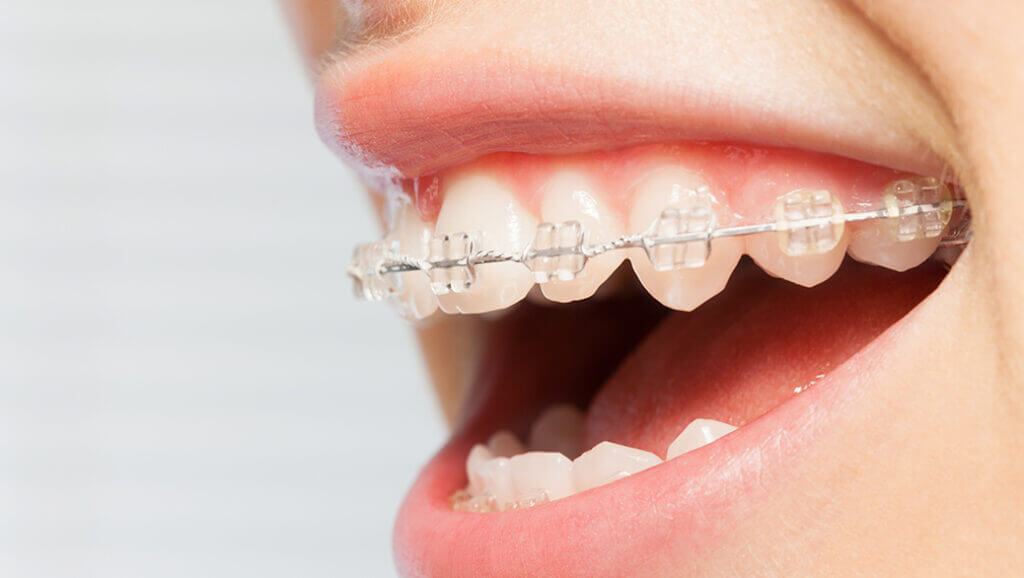 Porcelain Braces / Aesthetic Braces Treatment
Braces are treatments that allow the fixation of the brackets attached to the front surfaces of the teeth and the correction of these incompatible and crooked teeth with the help of the braces placed in these brackets. Porcelain brackets are less obvious because they are white and transparent and provide more aesthetic results for patients.
Metal braces are treatments that fix the parts made of stainless steel and correct crooked and mismatched teeth by means of the braces inserted into these brackets.
WHAT IS TRANSPARENT PLATE
INVISALIGN & INVISIBLE BRACES
Invisalign treatment is a digital orthodontic treatment method that is almost invisible, removable and custom-made with the latest technologies. Transparent plaques are an aesthetic and easy-to-apply treatment produced as an alternative to braces.
What are the applications of Invisible Braces?
Lingual orthodontic methods (internal braces), which are expressed as transparent plaques and bracketing of teeth from their back surfaces, are considered as invisible braces applications.
What is Lingual Orthodontics?
Lingual Orthodontic Treatment is a treatment in which the wires are placed on the inner surface of the teeth instead of the outer surface.
Frequently Asked Questions about Invisible Braces & Relationship to Invisalign
In order to correct the crowding and mismatch in the teeth, it is necessary to create orthodontic forces by moving the teeth. Following the creation of this force, the teeth begin to straighten. It is immaterial by which system and treatment method this force is created. With this logic, clear aligner or lingual orthodontic treatment is no different from normal braces.
Invisalign, clear aligners or lingual orthodontic treatments can be applied in most cases with the development of technology. In order to make the right treatment plan, you should definitely be examined by an orthodontist.
WHAT IS BRACES TREATMENT?
In addition to wanting to eliminate this problem, people with crooked teeth and irregularities avoid treatment due to the appearance of the wires, which is the reality of a standard orthodontic treatment.
In such cases, orthodontic treatments designed with transparent or tooth-colored white porcelain brackets can be considered as an option for these patients. Transparent brackets are tooth-colored white brackets made of porcelain material. For our patients who do not prefer metal brackets in terms of aesthetics and appearance, transparent aesthetic porcelain brackets such as transparent plaques can be another treatment option.
What is the Difference Between Transparent Braces and Metal Braces?
Transparent brackets adhere to the tooth surface a little weaker than metal braces. For this reason, transparent brackets are more sensitive than metals. It should be noted that your orthodontic treatment will be disrupted due to breakage or rupture, and for these reasons, our patients using porcelain brackets should be extra careful against the forces that will cause trauma.
As a result, if braces made of transparent (white) porcelain material will be used, care should be taken not to break them and oral hygiene should be given importance. As long as these rules are followed, transparent braces are technically indistinguishable from metal braces.
What Advantages Does White Porcelain Braces Have?
White porcelain braces are invisible. It is much more aesthetic than traditionally applied metal brackets.

Braces applied with ceramic brackets show very effective results.

Porcelain brackets do not cause irritation and pain in teeth, gums and soft tissues.